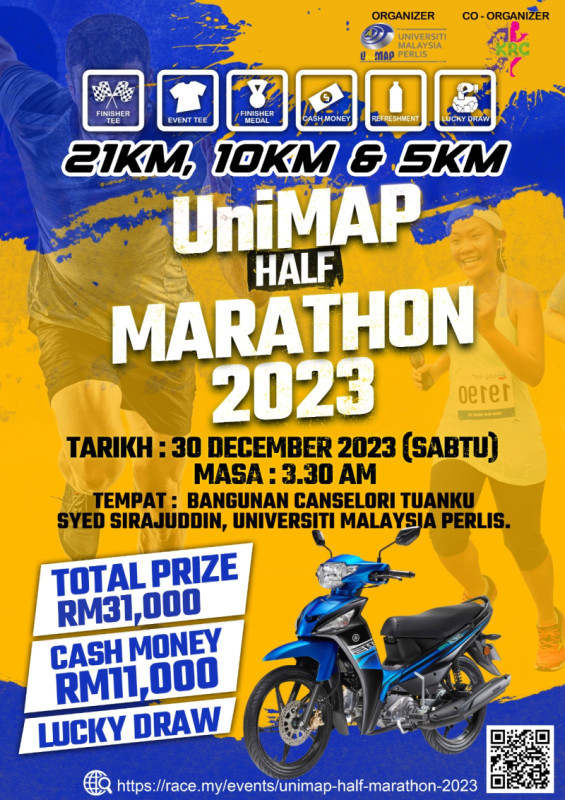 Register Now
Registration ends on 15 November 2023 or when the maximum of 3000 participants is reached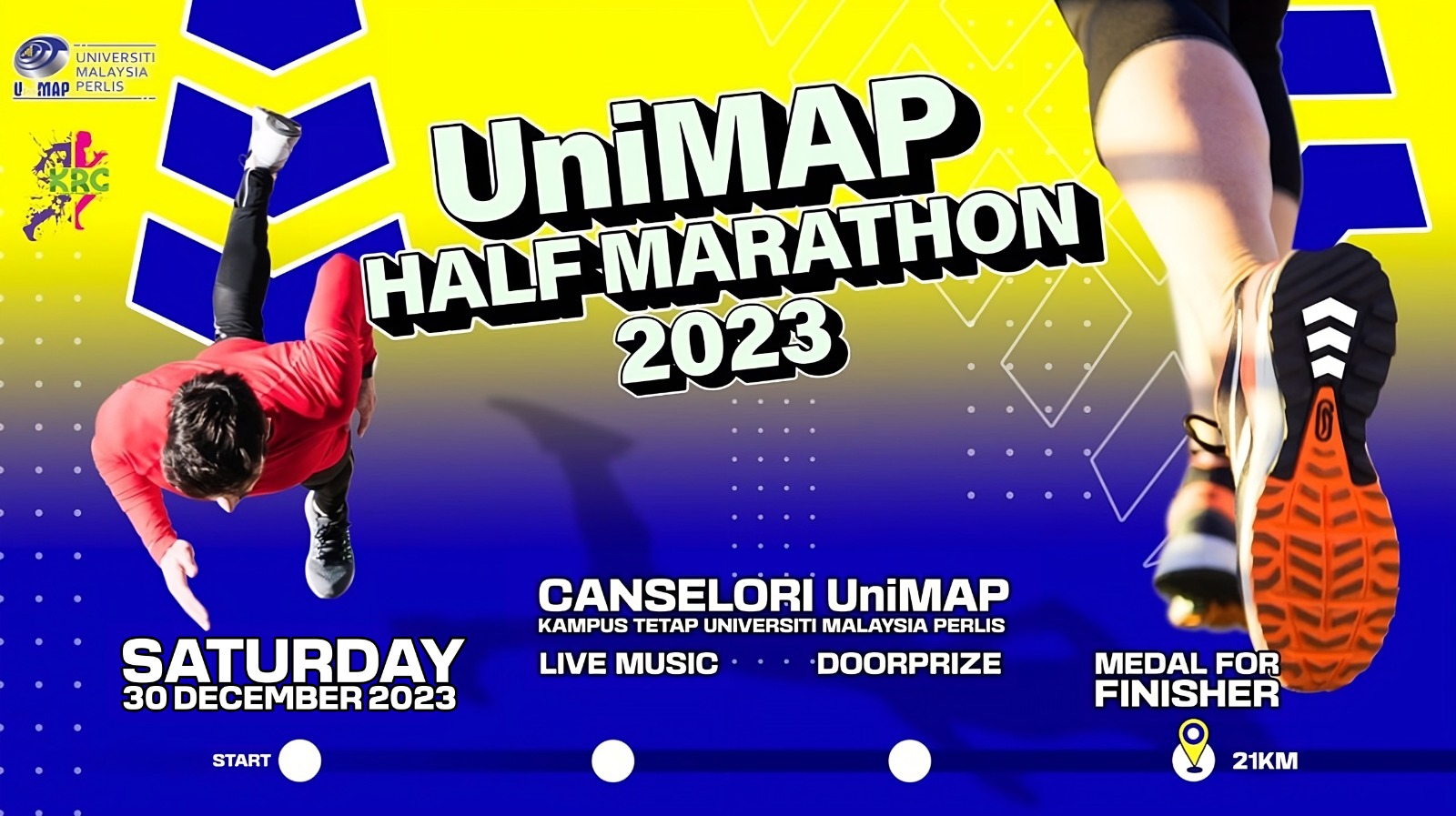 The UniMAP Sports & Recreation Center in collaboration with the Perlis State Government and Perlis state government agencies intend to organize the UniMAP Half Marathon 2023. The purpose of organizing this tournament is to foster and create a culture of healthy living among Malaysians, especially residents of Perlis and all UniMAP citizens.
It is one of the ways to promote marathon sports among local and foreign people.
Through the organization of the 2023 UniMAP Half Marathon Tournament, we can also connect UniMAP alumni who will participate in this tournament as well as promote UniMAP and the state of Perlis to outside parties.
In addition, this tournament opens space for participants to find experience in sports and recreational activities where new talents can be identified.
This tournament can also create a lively atmosphere with the presence of participants from within and outside the country. It will indirectly produce civilized and open-minded UniMAP citizens when they interact with participants from outside.
Registration period
Super early bird - 1 to 300 slots
Early bird – Until 31 August 2023
Normal price – 01 Sepetember – 15 NOV 2023
Entry fees
21 KM
-SUPER EARLY BIRD (RM65.00)
-EARLY BIRD (RM75.00)
-NORMAL (RM85.00)
10 KM
-SUPER EARLY BIRD (RM55.00)
-EARLY BIRD (RM65.00)
-NORMAL (RM75.00)
5 KM
-SUPER EARLY BIRD (RM35.00)
-EARLY BIRD (RM40.00)
-NORMAL (RM45.00)
Flag off / Cut off time ( 30 DEC 2023 )
-21 KM ( 3.30 AM cot 4 HOURS )
-10 KM ( 6.30 AM cot 2.30 HOURS )
- 5 KM ( 7.30 AM cot 1 HOURS )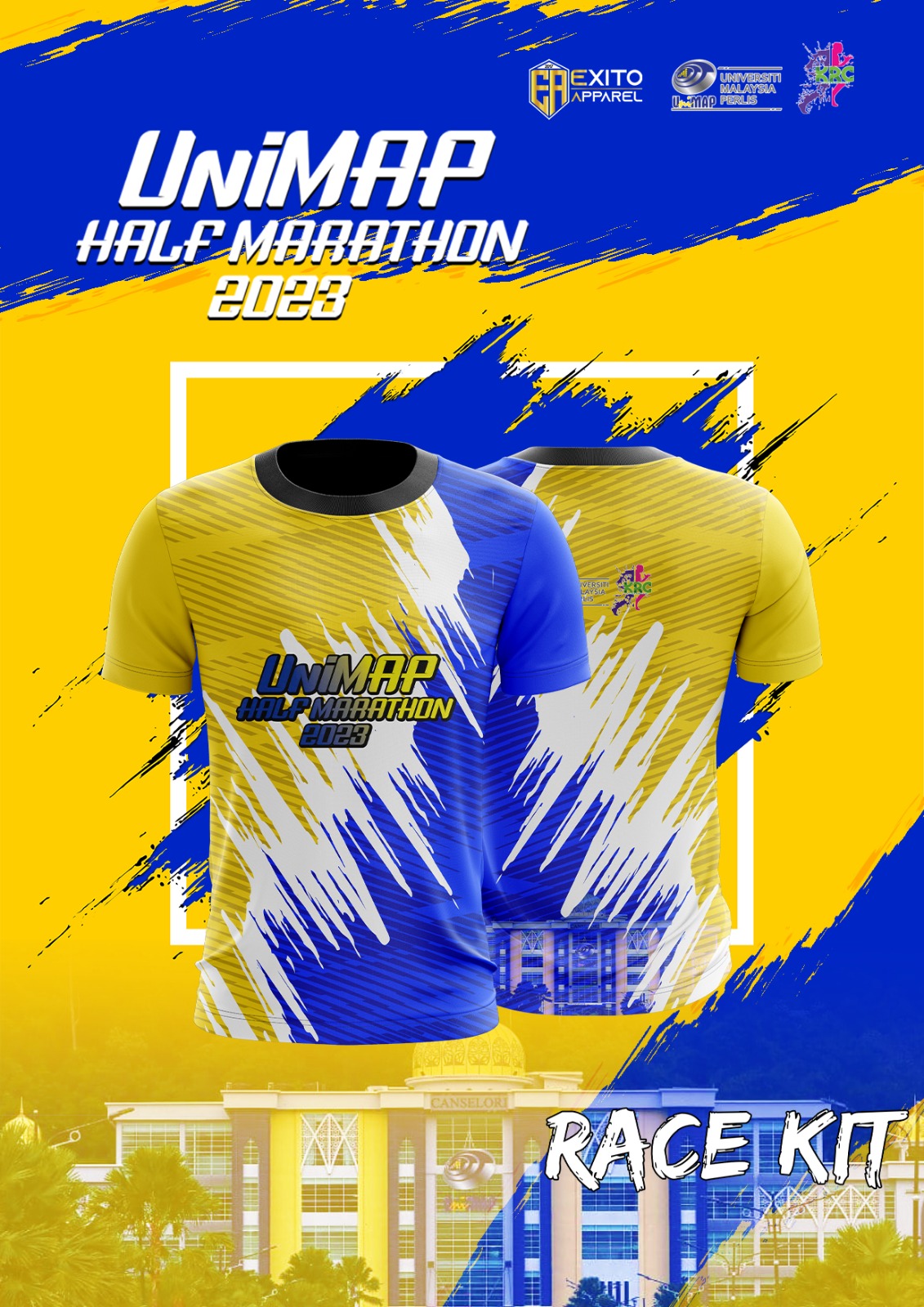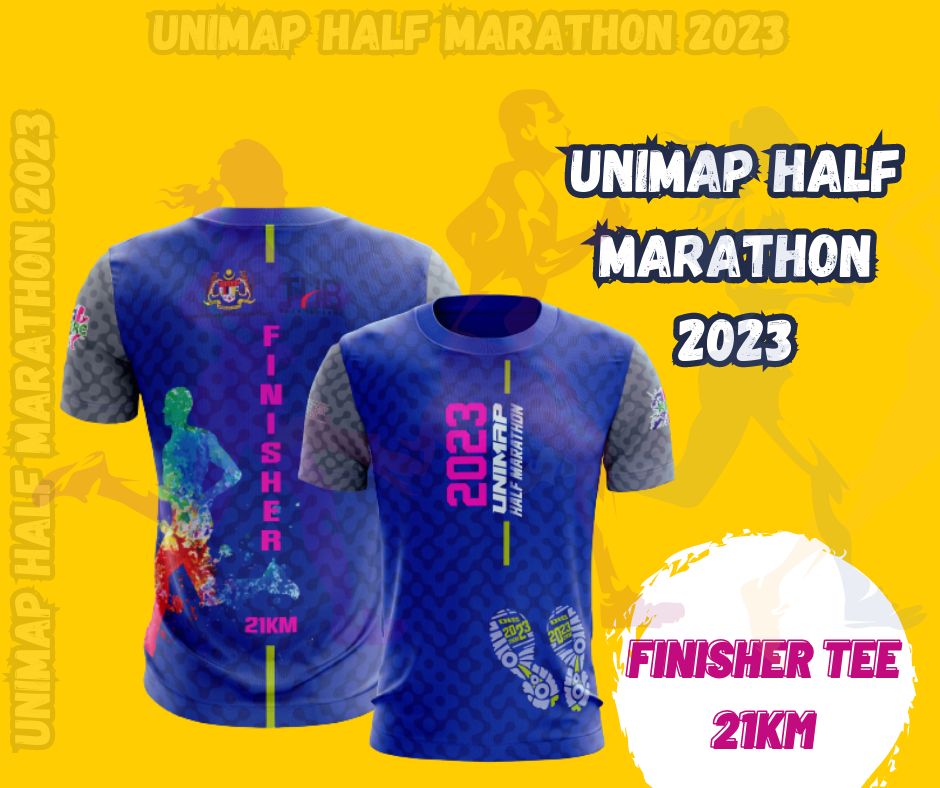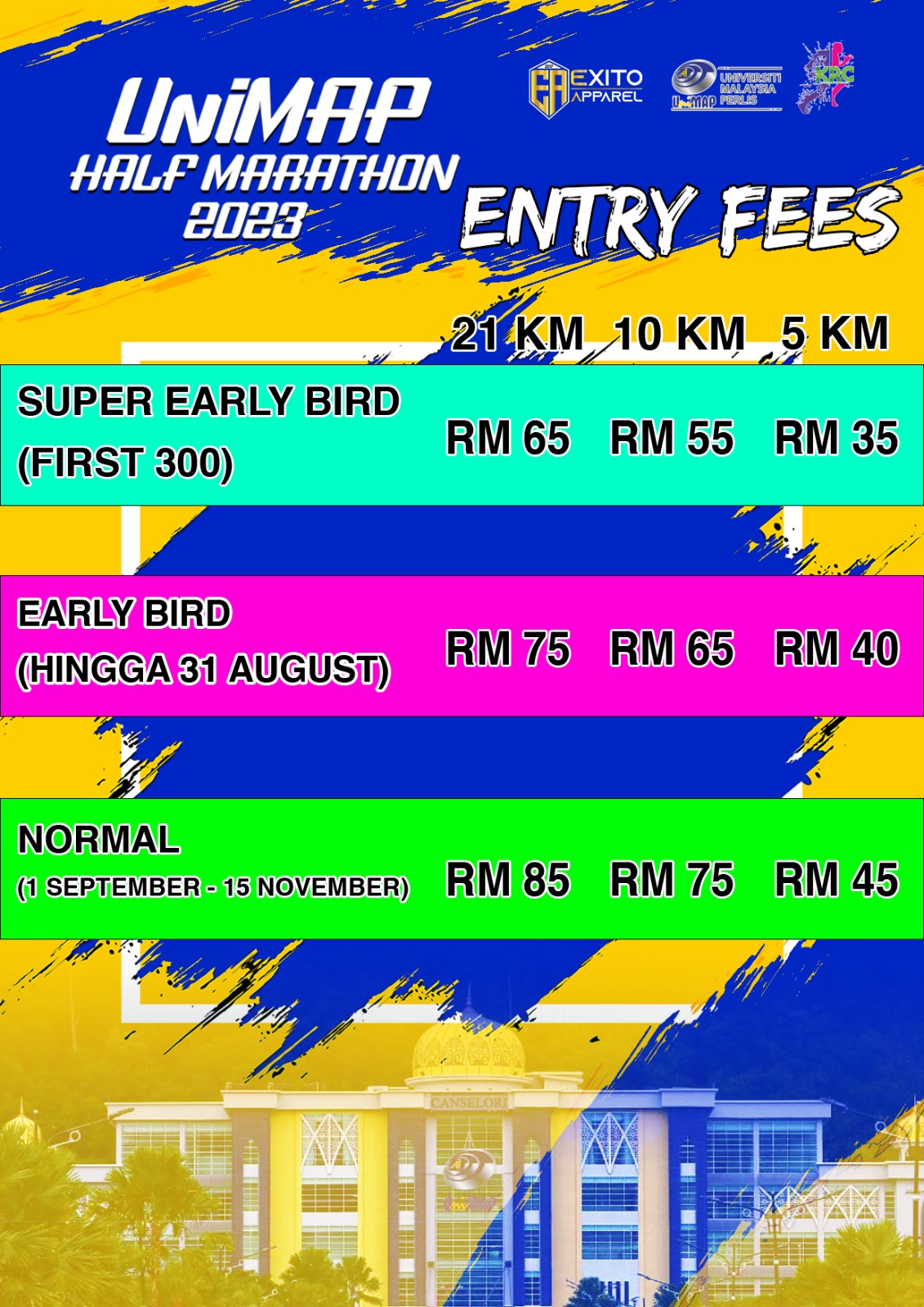 Race entry pack collection (REPC) day
Date - 28 – 29 DIS 2023
Time - 9.00 AM – 6.00 PM
Vanue - Saadiah Café, Wang Ulu
REWARD ENTITLEMENTS
PRIZES

21 KM

Finisher T-Shirt
Event T- Shirt
Finisher medal
Bib number
Timing chip
E – certificate
Lucky draw
Light refreshment
Cash prize ( TOP 5 ) + TROFI ( TOP 10 )







( MEN OPEN/ MEN VETERAN/ WOMEN OPEN/ WOMEN VETEREN )

= NO 1 - RM 800.00 + TROFI

= NO 2 - RM 500.00 + TROFI

= NO 3 - RM 300.00 + TROFI

= NO 4 - RM 200.00 + TROFI

= NO 5 - RM 100.00 + TROFI

= NO 6 hingga NO 10 – TROFI

( MEN IPT STUDENT/ WOMEN IPT STUDENT )

= NO 1 - RM 500.00 + TROFI

= NO 2 - RM 300.00 + TROFI

= NO 3 - RM 100.00 + TROFI

= NO 4 hingga NO 10 - TROFI

10 KM

Event T- Shirt
Finisher medal
Bib number
Timing chip
E – certificate
Lucky draw
Light refreshment
Cash prize ( TOP 3 ) + TROFI ( TOP 10 )

( MEN OPEN/ WOMEN OPEN/
MEN IPT STUDENT/ WOMEN IPT STUDENT )

= NO 1 - RM 400.00 + TROFI

= NO 2 - RM 250.00 + TROFI

= NO 3 - RM 100.00 + TROFI

= NO 4 hingga NO 10 - TROFI

5 KM

Event T- Shirt
Finisher medal
Bib number
Timing chip
E – certificate
Lucky draw
Light refreshment