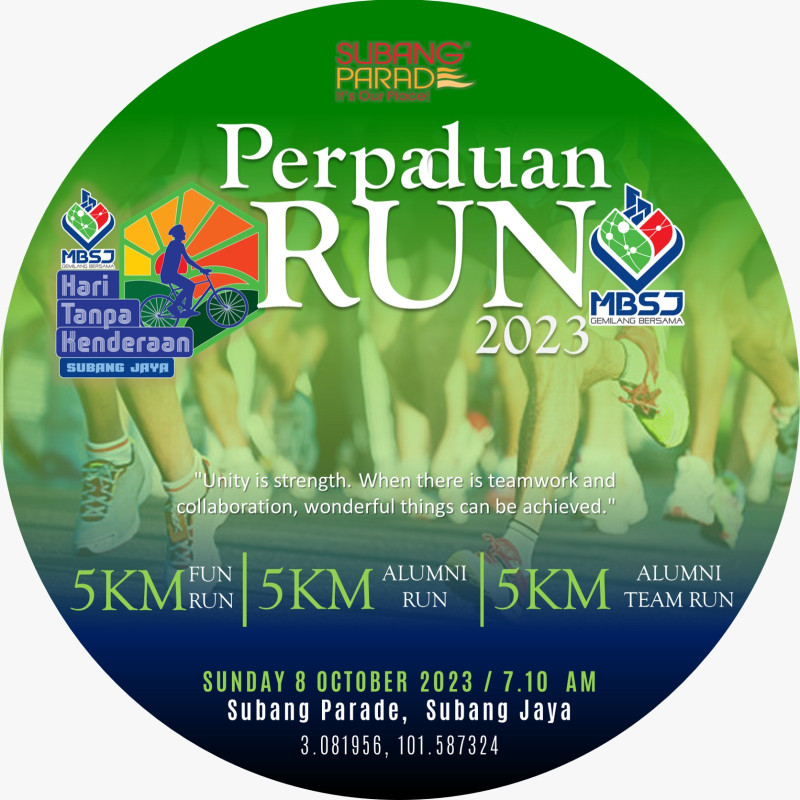 Registration ends on 8 September 2023 or 1,000 runners
Introducing "Perpaduan Run": Celebrating Unity in Subang Jaya
Welcome to Subang Jaya, where unity, diversity, and togetherness shine. Embracing the spirit of Bulan Kemerdekaan and Hari Malaysia, we proudly present the "Perpaduan Run" – a celebration of unity that has flourished since pre-independence.
"Perpaduan," meaning unity, embodies our city's core values, woven by 1 million diverse individuals. Nestled in this progressive community, the run showcases our collective strength and harmony.
Initiated by Subang Jaya's visionary Mayor, "Perpaduan Run" unites through sports. It encourages acceptance, tolerance, and harmony among all races, religions, and cultures.
Scheduled for October 8, 2023 the run offers the 5km "Fun" Run and the unique "Alumni Team Run." Teams of six old boys alumni race for cash prizes and fame, raising funds for their respective (schools and colleges) alumni.
Held in front of Subang Parade on Jalan Kemajuan Subang Jaya, the event aligns with the city's "Car Free Day," promoting a greener, healthier community.
Beyond races, enjoy food bazaars, band competitions, fitness dance, street netball, run bike championships, and more. Health exhibitions and free screenings underscore our commitment to well-being. A place for alumni to gather and enjoy companies
Join the "Perpaduan Run" as we stride towards a brighter future, celebrating unity and green living. Let's build bridges across differences, fostering harmony for generations.
Together, let's make Subang Jaya a beacon of unity.