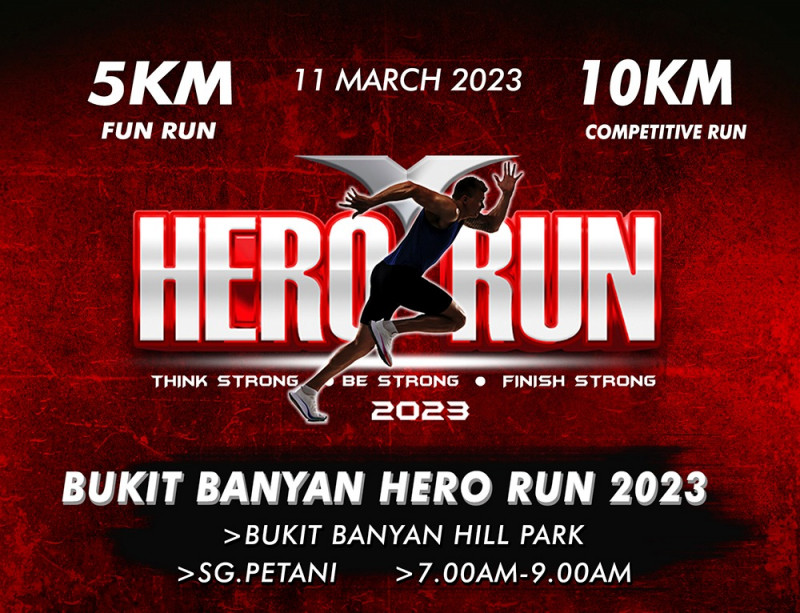 Registration for this event has closed
WE WISH YOU TO BECOME THE HERO OF YOUR LIFE,
BECAUSE HERO IS YOUR IDENTITY
The much-anticipated Hero Run annual sports event is held in Sungai Petani, Kedah. This year, Hero Run Bukit Banyan 2023 will return on March 11, 2023 after a 2-year hiatus due to the pandemic. Thanks to the support of running enthusiasts over the years, this year we are also open to the youngest (5-12 years old) to participate. We hope that the whole family will be able to join in this healthy activity together. In our previous run in 2020, more than 2,000 runners joined our event.
This year's run will take off from Bukit Banyan. This location has been the favourite among many runners during sunrise and sunset, as it has one of the greatest sceneries around to enjoy throughout your run. For the 10km runners, you will be running uphill towards the elevation gain of 150m, where you will be enjoying the scenery of the award-winning 25-acre landscaped Hill Park nestled in the middle of Bukit Banyan itself.
Bukit Banyan is Sungai Petani's first gated-and-guarded township development that offers a lifestyle that is up close to nature. The development comprises detached, semi-detached, double and single-storey terrace houses, townhouses, and shop offices. Bukit Banyan has received several other awards for its family-centric designs and landscaping.
A note of appreciation to the main event sponsor Paramount Property.